Illustration by Walter Crane for 'Snow White' (1882)
The Brothers Grimm were Jacob and Wilhelm Grimm, German professors of linguistics, who became best known for collecting folk and fairy tales.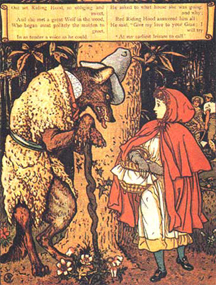 In the course of their work on linguistics which included an analysis of how words change their sounds over the course of time, they found that one of the best ways to get older people to talk to them and share the sounds of their dialects was to ask them to tell the stories that had been passed down to them. The brothers kept a record of these stories and eventually published them in 1812. They followed this with an update in 1814.
The Grimms' collection of tales consists mainly of Germanic tales but includes a number of French tales as well. The stories were not intended primarily for children. They contain witches, trolls, goblins, and wolves who prowl dark forests. Some of the tales were quite explicit and were rewritten by the brothers to better reflect what was considered appropriate for their time. Many English translations exist, but most of these are attempts to make the stories into harmless entertainments for children. The original tales are often very dark and do not make any attempt to avoid frightening their listeners, regardless of age.
The tales collected by the Brothers Grimm underlie much of what we are familiar with today in children's literature and cinema. The entire history of the Disney company is a major example of the Grimms' influence beginning with the company's first animated feature film, 'Snow White and the Seven Dwarfs.'
The tales are a magical, scary, comedic, and often violent journey into the forests of ancient Germany and France where every path leads to mystery and adventure.
CONTENT NOTICE:
Grimm's Fairy Tales are not all appropriate for very young children. Some the of the tales contain violence and prejudice. Unfortunately, they do reflect some of the less admirable qualities of the people who told the tales and spread them from one region to another. Some of the prejudice in evidence still exists today and cannot be viewed as entirely historical in nature. Quite frankly, there are some great things about these tales, but their antisemitism and racial hatred is just absurdly evident. Germany was quite obviously headed down a terrible road much earlier than is often supposed. Please exercise care when reading these stories to young children. Try reading the story you are interested in first, then decide if it is appropriate material for your young listener.
Illustrations on this page in order of appearance:
'Snow White' by Walter Crane (1882)
'Little Red Riding Hood' by Walter Crane (1875)
See below for more Grimms' Fairy Tale illustrations.
Listen to our 1/2-hour audio version of Snow White and the Seven Dwarfs.
The Complete Grimms' Fairy Tales
The Margaret Hunt Translation (published in 1884):
We are adding live links to the this list since we changed our site design.  They will appear as posts in the blog and links here.  Thank you for your patience.
If you want the complete list of stories, visit the page on our old site.
THE GOOD BARGAIN – with an introduction about the story's obvious prejudice
MOTHER HOLLE
THE SEVEN RAVENS
LITTLE RED-CAP
THE BREMEN TOWN MUSICIANS
THE SINGING BONE
THE DEVIL WITH THE THREE GOLDEN HAIRS
LITTLE LOUSE AND LITTLE FLEA
THE GIRL WITHOUT HANDS
CLEVER HANS
THE THREE LANGUAGES
CLEVER ELSIE
THE TAILOR IN HEAVEN
THE WISHING TABLE, THE GOLD ASS, AND THE CUDGEL IN THE SACK
THUMBLING
THE WEDDING OF MRS. FOX
THE ELVES
THE ROBBER BRIDEGROOM
HERR KORBES
THE GODFATHER
FRAU TRUDE
GODFATHER DEATH
THUMBLING AS JOURNEYMAN
FITCHER'S BIRD
THE JUNIPER TREE
OLD SULTAN
THE SIX SWANS
LITTLE BRIAR-ROSE
FOUNDLING BIRD
KING THRUSHBEARD
SNOW WHITE AND THE SEVEN DWARFS
THE KANPSACK, THE HAT, AND THE HORN
RUMPELSTILTSKIN
SWEETHEART ROLAND
THE GOLDEN BIRD
THE DOG AND THE SPARROW
FREDERICK AND CATHERINE
THE TWO BROTHERS
THE LITTLE PEASANT
THE QUEEN BEE
THE THREE FEATHERS
THE GOLDEN GOOSE
ALLERLEIRAUH
THE HARE'S BRIDE
THE TWELVE HUNTSMEN
THE THIEF AND HIS MASTER
JORINDE AND JORINGEL
THE THREE CHILDREN OF FORTUNE
HOW SIX MEN GOT ON IN THE WORLD
THE WOLF AND THE MAN
THE WOLF AND THE FOX
GOSSIP WOLF AND THE FOX
THE FOX AND THE CAT
THE PINK
CLEVER GRETHEL
THE OLD MAN AND HIS GRANDSON
THE WATER NIX
THE DEATH OF THE LITTLE HEN
BROTHER LUSTIG
GAMBLING HANSEL
HANS IN LUCK
HANS MARRIED
THE GOLD CHILDREN
THE FOX AND THE GEESE
THE POOR MAN AND THE RICH MAN
THE SINGING, SPRINGING LARK
THE GOOSE GIRL
THE YOUNG GIANT
THE GNOME
THE KING OF THE GOLDEN MOUNTAIN
THE RAVEN
THE PEASANT'S CLEVER DAUGHTER
OLD HILDEBRAND
THE THREE LITTLE BIRDS
THE WATER OF LIFE
DR. KNOW ALL
THE SPIRIT IN THE BOTTLE
THE DEVIL'S SOOTY BROTHER
BEARSKIN
THE WILLOW WREN AND THE BEAR
SWEET PORRIDGE
WISE FOLKS
STORIES ABOUT SNAKES
THE POOR MILLER'S BOY AND THE CAT
THE TWO TRAVELLERS
HANS THE HEDGEHOG
THE SHROUD
THE JEW AMONG THORNS – with an introduction about the story's obvious prejudice
THE SKILFUL HUNTSMAN
THE FLAIL FROM HEAVEN
THE TWO KINGS' CHILDREN
THE CUNNING LITTLE TAILOR
THE BRIGHT SUN BRINGS IT TO LIGHT – with an introduction about the story's obvious prejudice
THE BLUE LIGHT
THE WILFUL CHILD
THE THREE ARMY SURGEONS
THE SEVEN SWABIANS
THE THREE APPRENTICES
THE KING'S SON WHO FEARED NOTHING
DONKEY CABBAGES
THE OLD WOMAN IN THE WOOD
THE THREE BROTHERS
THE DEVIL AND HIS GRANDMOTHER
FERDINAND THE FAITHFUL
THE IRON STOVE
THE LAZY SPINNER
THE FOUR SKILFUL BROTHERS
ONE-EYE, TWO-EYES, AND THREE-EYES
FAIR KATRINELJE AND PIF PAF POLTRIE
THE FOX AND THE HORSE
THE SHOES THAT WERE DANCED TO PIECES
THE SIX SERVANTS
THE WHITE BRIDE AND THE BLACK ONE
IRON JOHN
THE THREE BLACK PRINCESSES
KNOIST AND HIS THREE SONS
THE MAID OF BRAKEL
DOMESTIC SERVANTS
THE LAMBKIN AND LITTLE FISH
SIMELI MOUNTAIN
GOING A-TRAVELLING
THE DONKEY
THE UNGRATEFUL SON
THE TURNIP
THE OLD MAN MADE YOUNG AGAIN
THE LORD'S ANIMALS AND THE DEVIL'S
THE BEAM
THE OLD BEGGAR WOMAN
THE THREE SLUGGARDS
THE TWELVE IDLE SERVANTS
THE SHEPHERD BOY
THE STAR MONEY
THE STOLEN FARTHINGS
THE BRIDES ON THEIR TRIAL
ODDS AND ENDS
THE SPARROW AND HIS FOUR CHILDREN
THE STORY OF SCHLAURAFFEN LAND
THE DITMARSH TALE OF WONDERS
A RIDDLING TALE
SNOW WHITE AND ROSE RED
THE WISE SERVANT
THE GLASS COFFIN
LAZY HARRY
THE GRIFFIN
STRONG HANS
THE PEASANT IN HEAVEN
LEAN LISA
THE HUT IN THE FOREST
SHARING JOY AND SORROW
THE WILLOW WREN
THE SOLE
THE BITTERN AND HOOPOE
THE OWL
THE MOON
THE DURATION OF LIFE
DEATH'S MESSENGERS
MASTER PFRIEM
THE GOOSE GIRL AT THE WELL
EVE'S VARIOUS CHILDREN
THE NIXIE OF THE MILL POND
THE LITTLE FOLKS' PRESENTS
THE GIANT AND THE TAILOR
THE NAIL
THE POOR BOY IN THE GRAVE
THE TRUE SWEETHEART
THE HARE AND THE HEDGEHOG
THE SPINDLE, THE SHUTTLE, AND THE NEEDLE
THE PEASANT AND THE DEVIL
THE CRUMBS ON THE TABLE
THE SEA HARE
THE MASTER THIEF
THE DRUMMER
THE EAR OF CORN
THE GRAVE MOUND
OLD RINKRANK
THE CRYSTAL BALL
MAID MALEEN
THE BOOTS OF BUFFALO LEATHER
THE GOLDEN KEY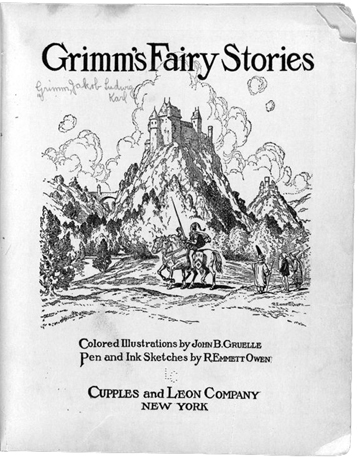 Grimm's Fairy Stories
Title Page from Published Book
Published by Cupples and Leon Company (1922)
Illustrated by John B. Gruelle and R. Emmett Owen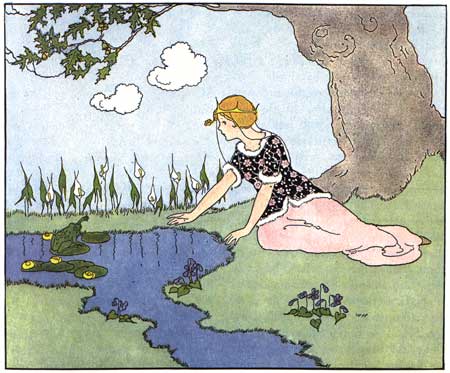 The Frog King
Margaret Evans Price (1921)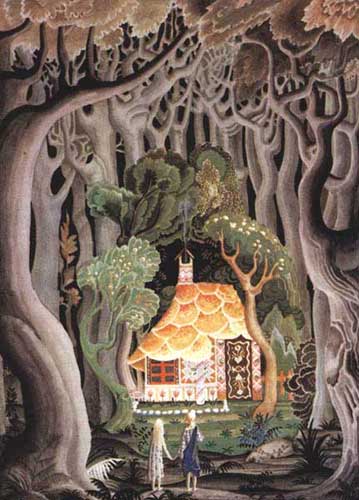 Hansel and Gretel
Kay Nielsen (1925)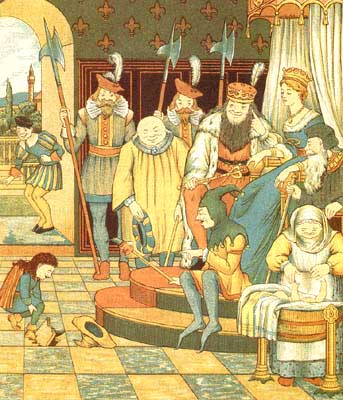 Rumpelstiltskin
George R. Halkett (1882)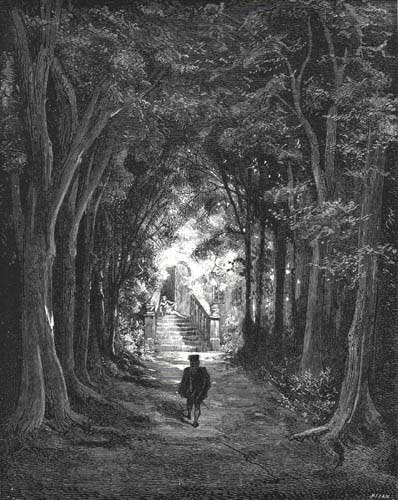 Sleeping Beauty
Gustave Dore (1867)
"Grimms' Fairy Tales" translations by Margaret Hunt (1884) are in the Public Domain