You can still play our Flash games using Ruffle which is an emulator that runs old games safely in desktop browsers.
The Easiest Way:
Use the Ruffle extension for the Chrome, Edge, Opera, or Firefox browsers.
Just use the easy one-button installation to add the extension to your browser and Flash games will run again:
The Second Way:
Here are the links to download the Flash standalone player from the Adobe/Macromedia Support Center:
For Windows 10:
Download the Standalone Flash Player for Windows 10
For Macintosh:
Download the Standalone Flash Player for Macintosh
How to Use the Standalone Player:
Download the correct standalone player for your system and save it somewhere on your computer.
Copy this URL for the game:
https://www.candlelightstories.com/games/LostKingdom1PreLoader.swf
Run the standalone player you downloaded earlier.
Use File – Open
Paste the URL for our game in and click OK
Play your game

To play Magic Quest, you only need to use a few keys and your mouse. The object of the game is to move around the kingdom, finding objects and avoiding attackers to build up your points and eventually fulfill your quest for the Water of Life.
******************************************
This graphic shows the keys that control movement in the game.
Walk your character to the edge of a screen in order to move into the next screen. There are over 80 areas to explore in the game. Remember that you can walk to all edges of a screen to move into different areas.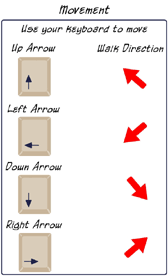 ******************************************
This graphic shows the keys that allow you to take actions in the game. For instance, the space bar can be used to push doors open or to choose which item you want to try using for a particular circumstance.
Sometimes, you will come to a door that will not open. Pressing the Space Bar will pop up the Item Choice Panel. From the panel, you can choose to use a key if you have one.
Pressing the Control key draws your sword and helps defend you against attackers.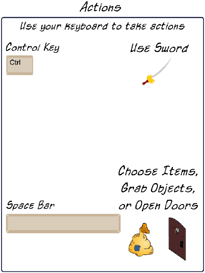 ******************************************
This graphic shows a screenshot of the game. The Control Panel at the bottom contains scores and buttons for viewing pop-up panels that show what items you have collected, what books of knowledge you can read, and the game's help screen.
You should always be checking the Info Panel for tips and information about what is happening in the game.
Your most important score is your strength. If you get down to zero strength, the game will end and your quest will fail.
If you get a Game Over screen, you will have the option to revive your character. This will put you back where you were in the kingdom with all your items and 50 strength points. Each time you revive, you will lower your overall final game score.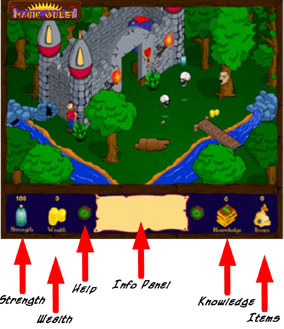 ******************************************
This graphic shows how the Item Choice Pop-Up Panel appears when the player comes to a locked door and presses the Space Bar.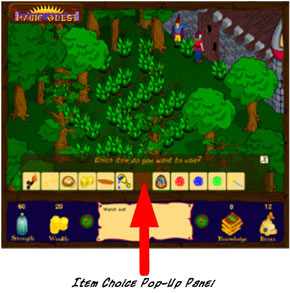 ******************************************
The most important objects you can find in the game are the strength potion bottles. Just walk over them to pick them and gain strength points. You can never accumulate over 100 strength points. So don't waste unused bottles if you don't need them!

If you find the Defense Jewel, it will protect you from 3 attack hits each time you use it. You can only use it 3 times.


Tips:
Sometimes, you will find yourself needing to move behind objects like walls or trees that will hide the character from view. It will help to have your PC's sound turned on so that you can hear your character's footsteps when he moves.

If you have trouble moving with the arrow keys, get to a screen that has no attackers or dangers in it and practice for a while before moving on.

Always read any books of knowledge you find. They contain important information.


Always look carefully for clues and never assume anything!




Have a great time!