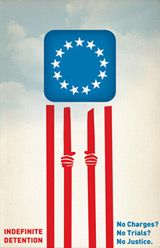 The U.S. Senate passed the National Defense Authorization Act which codifies into law the power of the U.S. military to arrest and detain Americans indefinitely, without any legal charges and without any oversight whatsoever. In other words, the United States government is handing its military the power to disappear anyone it wants to. The bill apparently designates the entire planet as a battlefield and makes it legal for the military to imprison U.S. citizens for any reason. No evidence of any wrongdoing is required. The military could simply suspect or dislike you and make you vanish. Forever. No one will even know what happened to you. A soldier can drive up, grab you, put you in an unmarked van, take you to a military prison, and keep you there until you die. That is exactly the same authority wielded by every South and Central American dictator over the past sixty years. It's a power used by dictators and authoritarian police states across the globe.
Only seven Senators voted against this terrifying bill. They are:
R-Rand Paul (KY)
R-Thomas Coburn (OK)
R-Mike Lee (UT)
D-Thomas Harken (IA)
D-Ron Wyden (OR)
D-Jeff Merkley (OR),
I-Bernard Sanders (VT) (one of 2 Independen­ts in the Senate)
Well, now you know. It would seem clear that the other senators are becoming a threat to civil rights and the protections of the U.S. Constitution. I don't really see any way to logically argue in favor of these people or support their continued presence in the Senate.
The Obama administration has said that the President will most likely veto this bill if it reaches him. But it is Obama who has opened the door for this bill by resolutely defending his right to kill any American citizen that he defines as an enemy… without charges and without trial. Our President now executes Americans without trials. And now our Senate wants the military to snatch people without trials.
Here's the Facebook page for 'One Billion Against Indefinite Detention Without Trial Law.'