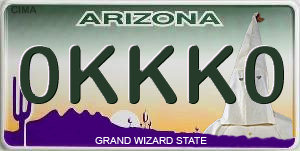 Cancel your trip to the Grand Canyon.  In fact, if you're in Arizona right now, get the hell out as quickly as you can.  The state of Arizona has passed a measure, signed into law by its governor, Jan Brewer, that requires police to determine the immigration status of anyone they suspect of being in the U.S. illegally.  All immigrants will be required to carry their proof of legal immigration on their person at all times.  This means that a police officer standing on a street corner drinking a cup of coffee can spot a person across the street and decide, based on anything the officer chooses (skin tone, for example) that the person might be an illegal immigrant.  The officer can then walk across the street, say he suspects the person of 'loitering,' and demand proof of their legal status in the United States.  If that person cannot produce the paperwork, the officer can arrest them.  The loitering thing is key because the Arizona law supposedly requires that the police be investigating some possible infraction before they can ask for proof of legal immigration.  But a cop can find almost any reason to suspect almost anyone of some minor infraction like 'loitering.'  I loiter all the time.
Arizona, by enacting such a law, has aligned itself with similar laws in Nazi Germany, the former Soviet Union, apartheid South Africa, and the post-slavery American South which used 'vagrancy' laws to arrest black people who could not prove that they were employed.  Apparently, the majority of residents in Arizona approve of the new law.  By definition, Arizona becomes Bigot Land.  One of the most important protections offered by a free democracy is the protection against unreasonable search and seizure.  No police officer anywhere in the United States can simply demand that a person produce papers proving their legal status.  But they can in Arizona as soon as this law goes into effect sometime in the next few months.
Nobel Peace Prize winner, Desmond Tutu says:
I am saddened today at the prospect of a young Hispanic immigrant in Arizona going to the grocery store and forgetting to bring her passport and immigration documents with her. I cannot be dispassionate about the fact that the very act of her being in the grocery store will soon be a crime in the state she lives in. Or that, should a policeman hear her accent and form a "reasonable suspicion" that she is an illegal immigrant, she can — and will — be taken into custody until someone sorts it out, while her children are at home waiting for their dinner.
When Desmond Tutu says something like this about the United States, you know there's a big problem.  The Obama administration is looking at ways to challenge this law in court.  The President is very diplomatic and reserved in his reactions.  I'd prefer to see him take a hard line with Arizona.  This is government bigotry posing as immigration law.  The people of Arizona are fed up with illegal crossing of the border with Mexico.  They are fed up with rising violence and people looking for work.  They simply don't want illegal immigrants running around getting into car accidents, taking jobs and standing on street corners looking for work.  Certainly, states have the right to expect the federal government to manage immigration properly and to protect the border.  And no rational person wants people crossing in from Mexico to commit crimes.  But no state can threaten people with unconstitutional actions in order to frighten them into leaving.  That's state terrorism and it will not be tolerated in the United States.  People, both legal and illegal, have the absolute right to resist such actions – to defend themselves from those actions by any means at their disposal.
For now, I would avoid all travel to the state of Arizona.  One could be stopped while driving through simply because one has tan skin and is going 1 mile per hour above the speed limit.  If you can't produce proof of citizenship on the spot, you can be arrested and held.  I would not engage in any sort of tourism or business activity with Arizona.  A total boycott of the state is perfectly in order and is just what the bigoted white voters of the state deserve.  I would suggest running away if you see a police officer.  It is perfectly legal to run from police and cannot be interpreted to indicate that one has committed any crime.  Lawsuits should be filed against police departments for unconstitutionally demanding immigration papers.  Lawsuits should also be filed against the cops as individuals.  The police, even if following state law, may in fact be committing federal crimes.  I think protesters should paint their faces white and march on the state capital.  After all, Arizona seems to want only white faces.  The cops will be out looking for anyone that doesn't have a white face.  If officer friendly thinks you look a little tan he might stroll on over and say, 'You just jaywalked and I'd like to see some paperwork that'll verify your status as a U.S. citizen.'  If you can't show those papers, he may just haul you off into a world of trouble.
The bigot state has gone even further.  It has passed a law that bans people with heavy accents from teaching English and forbids ethnic studies classes.  These people are so terrifyingly bigoted that I would not feel safe without a gun in Arizona.  Seriously.  I would be prepared to shoot someone to defend myself in that state.  This kind of hatred and state terrorism is going to lead to a flash-point and to violence.  The virus is spreading.  Something got under the old scab of racism in this country on the day the Barack Obama was elected and now the wound is opening up and all the nasty bigot bugs are crawling out.
When I see a person from Mexico, I don't see a drug cartel killer who's invading my country hell-bent on slaughtering my children.  I see a person who likes what he or she has heard about my country and wants to come live here and work here and love here.  I see someone who is going to help build my country and make it better.  Our entire nation was built by people coming here legally and illegally.  We are the richest nation on earth and look at how we are behaving.  It's incredible.  We have the worst financial recession in modern memory, yet we are still watching our televisions and eating pretty damned well.  People still want to come live here even during the hard times!  But we've got people out there like Mr. and Mrs. Whitebitch in Arizona who think they should strip freedom away from people because they are scared of all those 'dark people.'  Arizona is a state full of vicious bigots and now they are showing their true color: washed out, washed up, wretched white.
Boycott Arizona and call a bigot a bigot.