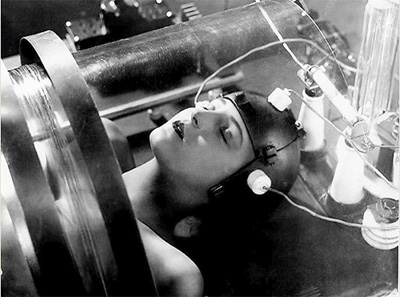 The TCM Classic Film Festival in Los Angeles is hosting the North American premiere of Fritz Lang's 1927 science fiction classic, Metropolis, with 25 minutes of newly discovered footage.
Metropolis is the story of a mechanized future city with rulers who live atop high towers and masses of slave workers that operate the giant machines below.  A rebellion is incited when a robot version of a young woman who works to help the poor is set out to inflame the oppressed workers.  The setting of the film is just astounding and has not been matched for beauty by any film since.  This is one of the great classics of world cinema and finding 25 minutes of lost footage is incredible.  Several years ago, I went to the Egyptian Theater in Hollywood to see a newly restored version that had still photos inserted where footage was missing.  I suspect that many of those missing scenes are now included!
The film was discovered in a museum storage room in Argentina.  So not only did Argentina hide escaped Nazis, but it has also been hiding a German science fiction treasure… unwittingly of course.  And if you look at Metropolis carefully, you can see the Nazis coming.  The film is permeated with it.  If you don't believe me, consider that the screenwriter, Thea von Harbou did in fact become a Nazi.  Another Fritz Lang classic, Spies, is so riddled with antisemitism that it is almost impossible to watch.  So there it is.  Great classic yes, but also profoundly threatening.
Here's the Los Angeles Times article about the restoration.
Here's a link to the prior restoration: Metropolis (Restored Authorized Edition)