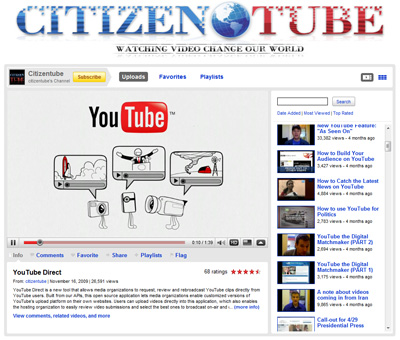 YouTube has built an open-source application called YouTube Direct that allows news organizations to request and accept uploaded videos from citizen journalists anywhere in the world.  The idea is to give news organizations the ability to put out a call for videos on a specific news story and then review the direct uploads to select the ones they want to broadcast on their web sites or even over the air.  The video creators get to keep their videos on YouTube for access just like any other video on the site.  There's more information available in their Citizen Tube information area.
The camera in the hands of the average citizen has proven to be an extraordinarily powerful tool for news-gathering over the past few years.  Instances of police abuse, natural disasters, and political turmoil have been captured by cell phone cameras all over the world.  This seems like a very smart move by YouTube that could have a profound effect on the news.  I can see this as a major benefit to smaller start-up news organizations that mostly rely on the web.
It remains to be seen, however, if YouTube makes this widely available to small sites and creative outlets, or if they stick to a larger scale more corporate membership.  That would be disappointing, but it would still broaden the availability of citizen journalism.