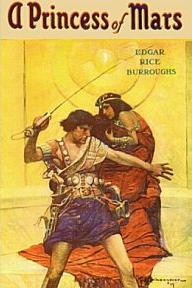 This is the first John Carter of Mars novel by Edgar Rice Burroughs, the author of the Tarzan books.  It was his first novel, published in 1917 and it's a work of rip-roaring science fiction that has inspired many of the great writers in the genre.  The story concerns soldier John Carter who is mysteriously transported to the red planet where he fights to protect his princess against impossible odds and many peculiar creatures.  The book is very much a product of its time, with outdated ideas about the red planet and outdated social ideas.  But if you can just go along for the adventurous ride, you are in for a sci-fi space opera swashbuckling treat.
You'll find regular podcasts of all the chapters over the next couple of months.  Subscribe to our feed.
Duration: 00:21:54
Read by Alessandro Cima
All audio stories are Copyright © Candlelight Stories, Inc., All Rights Reserved.