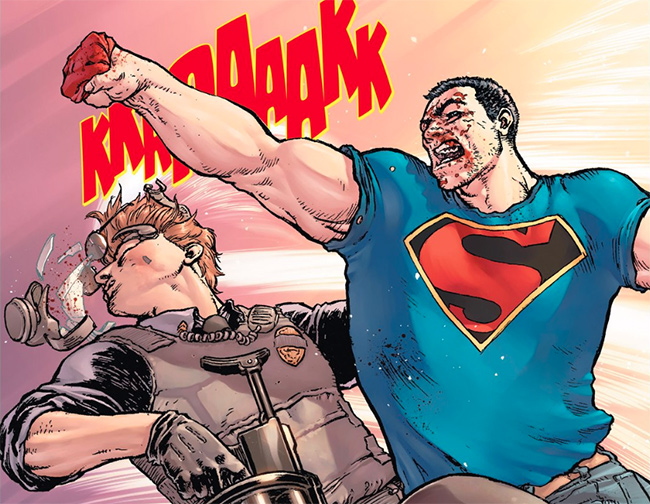 A decisive moment has occurred in the history of comics. The quintessential all-American superhero has turned against the American police and has beaten the shit out of them.
It's about time.
DC Entertainment has revamped its Superman franchise and has unapologetically pitted him against the ever more brutal and murderous police running unchecked across the nation.
Years ago the FBI warned that white supremacists would infiltrate law enforcement. It's happened. It's all over the news, the web, on cell phone video and right in front of people on street corners. People are pulled from their cars. Shot to death while being given traffic tickets. Strangled to death for selling cigarettes. Held to the ground and shot through the heart or the back.
And even with all this video the problem is much worse. We see only the tip of the iceberg.
What could be better than seeing Superman smash a cop's face into pulp? I'll tell you what's better. It would be to see Americans turn on the police and hand them back the violence which is all they have to offer.
That would be better.
The police in this country have a huge problem. Their problem is me.
I'm a successful, educated, law-abiding American citizen who doesn't even get parking tickets. I'm as untouchable as you can possibly get. I'm the cops' worst nightmare because I wait and hope to see them get it bad. I hope for it just as much as your average gang member, but for different reasons. For really good reasons. I want them hurt because they are armed and dangerous. You don't typically get far talking to violent armed military forces.
I represent a major problem for the police. It's one they can't stop because there are many people like me – like Superman – who have turned against them.
What about good cops?
There aren't any.
During the Civil War there was no such thing as a good Confederate soldier. They were all racists fighting to enslave African Americans. No one joins a police department today without knowing which army they are signing up for. They may behave better than some other cops, but they remain silent when crimes are committed by their fellows. They actively participate in the coverups. Forget good cops. The police are fighting a war and they are shooting at Americans. It's as simple as that.
Americans have not yet realized that they are in a war. We still think there is a civil justice path to combat violent racists in uniform. There isn't. Look at St. Louis where judges, prosecutors, Grand Juries, and entire courts are fully enmeshed in the racist warfare, extracting horrific fines from the poor, jailing people for literally nothing, and refusing to prosecute obvious murder by police
St. Louis is everywhere.
When Americans in every strata of society begin to press for retaliation against criminal racist police, society begins a breakdown.
When no one trusts a cop anymore you have basically become Mexico.
Politicians get tough in their pleasant way, calling for criminal justice reform. Good luck. The politician who clearly informs police that she is coming after them with weapons drawn gets my vote. If the NRA wants to win hearts and minds, it might consider distributing paper targets with police outlines on them.
Eventually we will experience an episode in which police suffer a truly horrific mass defeat. Such an episode will become a defining moment in American history. Get ready. It's not far off. It will make the Branch Davidian compound disaster look like a sunday picnic.
Every police officer in the United States should go out and buy a copy of the new Superman comic, roll it up tight, shove it down their throat, and choke.