Let's begin the creepy festivities of October with this short film by Pixar's Rodrigo Blaas.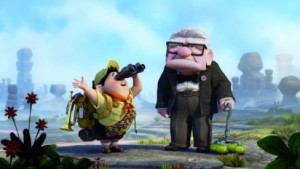 Disney's Pixar Animation Studio received a message from a friend of the family of ten-year-old Colby Curtin who was dying of cancer.  The message told Pixar that the girl wanted to stay alive long enough to see Up.  She was too sick to risk being moved to a movie theater and a DVD was the only possible option.  It seems that Pixar management dispatched an employee to the girl's home with a DVD, a poster and some toys based on the movie.  The girl was able to enjoy the screening even though she could not open her eyes.  As the movie played, her mother described the images on screen.  The girl passed away several hours later with her family at her side.
This is sad story, but it's a great thing Pixar did and it was a wonderful wish for a little girl to have.  Very nice.  I'm sure this simple act by a few people at a big company made a sick little girl very happy in her last hours.  Well done, Pixar.
In this fast-paced and colorful short, Pixar sends Mater to do some incredible street racing in Tokyo. This one's a lot of fun.