MATURE CONTENT – DISTURBING IMAGES AND LANGUAGE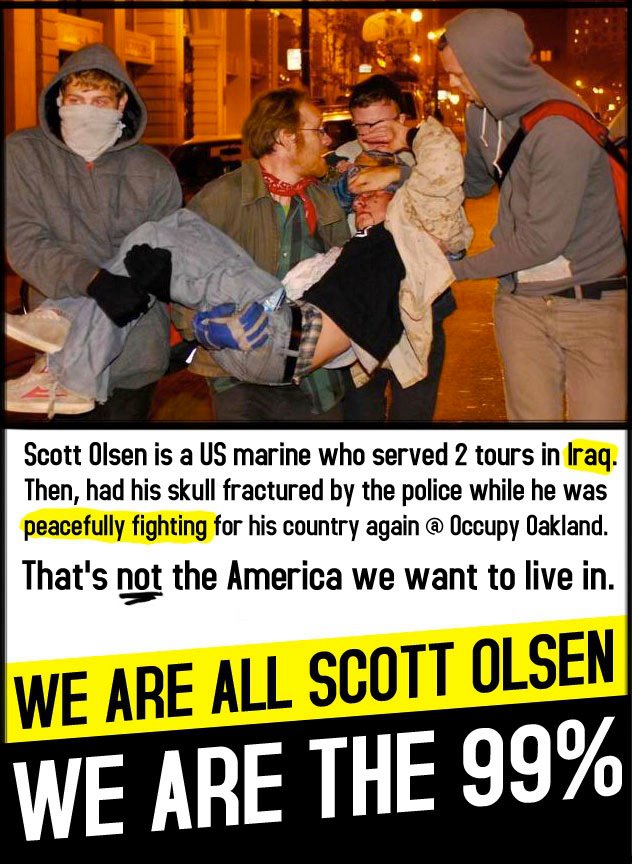 In Oakland, Tuesday evening, police fractured the skull of Occupy Oakland protester Scott Olsen who is an Iraq war veteran.  Police apparently fired a projectile at his head. Mr. Olsen is in critical condition.
Oakland is an American city where police will lay a person out on a subway platform and brutally murder them with a bullet through the back. They are now firing deadly projectiles at Occupy Oakland protesters.
The use of projectiles by police against crowds is in fact a use of potentially deadly force and should be defended against as such. Any firing of a projectile toward crowds or individuals must be viewed as potentially deadly. The protesters would now seem to have a legal argument for self defense.
I predict that this protester and his injuries will soon cost the city Oakland tens of millions of dollars in damages.
That's the thing about this movement.  It's got a lot of very smart and well-educated people involved and they have really powerful attorneys who are going to rip Oakland a great big new asshole.
Oakland police were also filmed firing projectiles at people who went to administer first aid to the seriously injured Olsen. You can see that toward the end of the following video. I'm not sure I've ever seen anything quiet like that, but I am very certain that the police officer who fired this projectile at people rendering assistance to an injured person can face serious criminal charges.