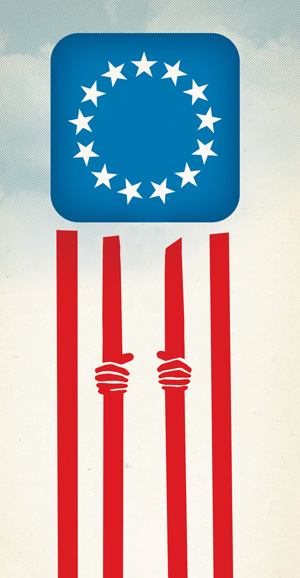 On New Year's Eve, while few were paying attention, President Barack Obama signed into law a bill which authorizes the military to investigate and indefinitely detain any American citizen that the President chooses. It is now the law of the land, passed by both houses of Congress and signed by a Democratic president, that you can be identified as a possible terrorist and put into the hands of the military without any communication with the outside world – including attorneys, family, friends, or journalists. The military can then hold you without hearings or trials of any kind for the rest of your life if they so choose.
This is probably the single most frightening legislative act ever undertaken by an American Congress or president. The idea that a president could even remotely consider signing such a draconian and unconstitutional bill into law would never have occurred to me even during the Bush administration. The fact that the first black president in U.S. history is also the first president to turn his military against his own people should bring us all to tears of rage. I voted for this president. I donated to his campaign. For these things, I am now deeply ashamed. This is not a president that brings hope. This is not a man who represents to voters who he really is. This is not a man that I can ever vote for – no matter who the opponent is. Because ultimately, regardless of who Obama's opponent turns out to be, that person will not have been involved with this law. That person will not have been a person who voted to turn the U.S. military against Americans. That person will not have enacted a law that would fit perfectly into the books of any tin pot dictatorship across the globe. In fact, nearly every dictatorship or authoritarian government worldwide has exactly this law on their books. All dictatorships need this law in order to pick up citizens who dissent and put them away in secret places – or kill them.
I don't like Ron Paul because I think he's probably a racist and a homophobe, but he's angry about this law and he was one of the very few who voted against it. Seems reasonable to me. Let me put it this way: No president who signs a law like this should ever be reelected. Any opponent is preferable by a very wide margin. I hate myself for saying this because I have voted for Democrats all my life. But this is a presidential betrayal of the highest order. Worse, it is a governmental betrayal. Its magnitude is so great that it calls into question our ability to manage a democratic system. It weakens the very foundations of everything we have assumed and trusted about our system. It is an abysmal and terrifying start for the new year.
The ACLU says this about the law:
The statute is particularly dangerous because it has no temporal or geographic limitations, and can be used by this and future presidents to militarily detain people captured far from any battlefield.
No American citizen can allow the U.S. military to take them into custody. And therein lies the real problem. If Americans find that they have no governmental or legal recourse to prevent their arbitrary abduction, arrest or 'detainment' by the military, then they have only one possible option left. That would be armed resistance against the U.S. military. What would you do if your son or daughter disappeared into a military prison without any trial? What if all three branches of government agreed that it was just fine to make Americans vanish without trial? With the current climate surrounding the Supreme Court this could certainly happen. What if a president began using this power to make troublesome people or political opponents vanish? What would your option be?
Your option and the option of great numbers of other frightened Americans would be something resembling armed resistance. Eventually, Americans would start killing U.S. military personnel. Soldiers who jumped out of vans to snatch Americans off streets would be shot to death by people defending themselves. This would be justified. In any democracy it would be legal self defense. In a country where the military has been turned against the citizens it becomes justifiable and necessary to kill military personnel while still firmly supporting the nation and its Constitutional basis. This is the unthinkable potential situation created by President Obama and our Congress.
Obama has signed a law that operates outside of the Constitution which guarantees due process to all American citizens. We are all presumed innocent until proven guilty. Obama, the House of Representatives and the Senate do not want that to be the case anymore. They are eliminating that fundamental Constitutional protection. This is a violent and dangerous act against freedom and the American people.
Obama has signed a law which now makes every member of the military a potential threat to every American citizen at home and abroad. You must remember that nothing in this bill requires anyone to prove that a detainee is a terrorist. Since no lawyers or courts are involved no one actually needs to prove anything. The law will simply be used to arrest and hold anyone of the President's choosing for any reason of the President's choosing.
A journalist could be detained by the military because the President asserts that the journalist wrote something suspicious in a newspaper article. We may never hear from that journalist again.
Think very carefully about this the next time you watch your troops celebrating Thanksgiving during an NFL broadcast. Those smiling, turkey-eating troops now have the power to march into your house, throw you into a canvas bag and take you to a cinder block cell where no one will ever hear from you again. That's no exaggeration. What do you think 'indefinite detention' means?
The President signed this bill into law with his own little attachment to it – a statement. He claims to have significant issues with the detention provisions. He promises that his administration will never use those provisions to detain Americans. He 'promises.' But of course he signs the law. He takes the power. But he wants us all to feel a little better about it because he promises he really won't use it. This is one creepy little bullshitter if I ever saw one.
Obama has lost all my admiration, my support, my money, and my vote. I will vote for anyone else. Anyone. I don't care if it's a Republican. I don't care if the person can't read, write, or do arithmetic. The bottom line is that whoever that person is, he or she won't be Obama. Recall elections should be held to try to remove Senators and Representatives who voted for this bill. I am personally voting for a Democratic primary opponent to my current Representative who voted for this law. People who pose as liberals – like Al Franken – should be removed. The very idea of a liberal Democrat voting for this terrifies me. It really means that we are running out of options. Someone is so interested in gaining this power of indefinite detention that they are willing and able to get everyone working in concert for it. They have totally overcome the distinctions between Democrats and Republicans… liberals and conservatives.
Obama has seized the single most important legal power underlying all dictatorships and authoritarian governments: the power to make people disappear.
Here's an interesting Russia Times America report on the bill from early December 2011: