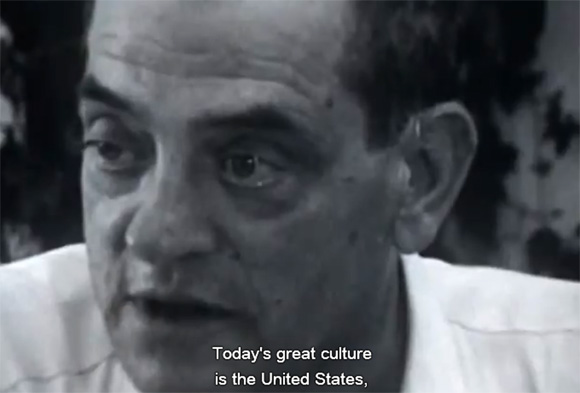 Luis Buñuel
was the great Spanish film director who made 'Un Chien Andalou' and 'L'Age d'Or,' two of the original surrealist films. This documentary, directed by Robert Valey, was made in 1964. The director talks freely and with a certain charming guile about his influences, friends, paranoias, enjoyments and his impressions of various countries. He once smacked Salvadore Dali down on 5th Avenue in New York city!
I enjoy listening to people like him talk about their work because they talk about how they see things – how they interpret the world. Compare the way he talks in this film to what you normally see coming from people like Steven Spielberg or Martin Scorsese. Those people don't seem real. They don't seem to have any point of view. Notice how people in the film consistently associate Buñuel's filmmaking with the work of painters. It is the continual grinding down of art into business that destroys real culture. One should immerse one's self in better ideas and more subtle things if one wants to avoid the dullness that permeates most film work currently going on in the United States. I have found it to be a general rule that people with real talent who are artists answer questions in a slightly confusing manner. Clarity is another word for fake. Buñuel appears to me to fit this general principal.
Buñuel wrote a short and very beautiful autobiography called 'My Last Sigh.' I recommend it very highly if you want to know more about the mind behind Surrealist film.
And of course, here is the great Surrealist short film, 'Un Chien Andalou,' made by Buñuel in 1929.