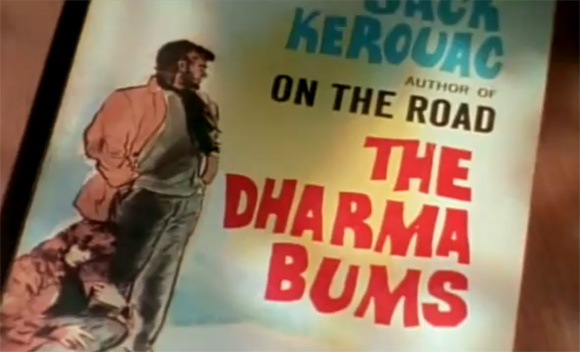 I have very mixed feelings about the core group of writers known as '
The Beats
.' They were Jack Kerouac, William S. Burroughs, and Allen Ginsberg. Kerouac's
'On the Road'
is one of the milestones (or millstones, depending on point of view) of American literature. Ginsberg's 'Howl' is one of the great twentieth century poems, and Burroughs wrote the distorted fever dream of homo-erotica known as 'Naked Lunch.' There's lots of intensity in Beat literature and poetry. There's a willingness to seek out the world and experience. There's a seeming openness of mind. But every time I delve into the Beats and their work, I become listless, bored, irritable and worried. I find the general direction of their writing to be toward a distinct and virulent hatred of women. The glassy-eyed hero worship of these writers seems odd to me. Wouldn't it be better to try rejecting their premises? Why do they still have such a hold over the popular imagination? Why hasn't poetry been able to dispense with these people yet?
What I like about this documentary is that it does in fact touch upon this subject. What I don't like about it is Johnny Depp prancing around with an unsmoked cigarette trying to convince us of his Beat/hipster/baggy jacket coolness.
The Beat hatred of all things female manifests itself most obviously in the fact that Burroughs stood his wife, Joan Vollmer, up against a wall in Mexico and blew her brains out with a gun. There's great mystery surrounding his escape from the authorities in Mexico who quite naturally wanted to investigate and prosecute the man for murder. I would have prosecuted him too. He told various stories about playing a game of 'William Tell,' or inebriation or drug use to explain how it happened. But in order to fire a bullet through his wife's forehead he had to lift the gun and point it at her. It sort of goes without saying. Would you be able to point a gun at your spouse? Hopefully not. I wouldn't be able to even lift a gun in my wife's general direction. So why was a man who blasted his wife's head open welcomed back into his little group of Beat friends? Why would such a man become the life of the party in literary circles? Why would such a man love guns and fire them at tin cans in his backyard for the rest of his life? Good questions. Easily answered. Nobody gave a shit about the man's dead, blown-open wife. She was just a lady in Mexico married to a bisexual genius. That's the problem with the Beats. That's the rock bottom attitude of the most important literary movement in America during the twentieth century.
Here's what Burroughs had to say about killing his wife:
I am forced to the appalling conclusion that I would never have become a writer but for Joan's death, and to a realization of the extent to which this event has motivated and formulated my writing. I live with the constant threat of possession, and a constant need to escape from possession, from control. So the death of Joan brought me in contact with the invader, the Ugly Spirit, and maneuvered me into a life long struggle, in which I have had no choice except to write my way out.
Let me translate that for you: "I killed my wife and was so inspired by the act of killing a female that I became a great writer. And I want to kill again. I have to constantly struggle with the urge. My writing helps with that."
Get the idea? Murder inspires good writing… according to one-third of the Beat literary movement. The other two-thirds were just fine with that.
You may think I've gone too far or have some literary ax to grind. But I would suggest that reading the Beats without keeping these ideas in mind is self-deception. It's all right there on the page if you actually read the stuff. These guys weren't gentle spirits with open hearts and minds. They were brutal little elitists from Columbia University who were willing to kill and dump dead bodies into rivers in order to protect their group. Kerouac helped a friend dispose of a murder weapon, then took the murderer out to a movie. That murder, which was in fact the brutal slaughter of a gay man who was making advances, led to inspiration for Kerouac, Burroughs and Ginsberg who all attempted and partially succeeded at novels based on the incident.  Again, murder inspires Beat writings. If one really wants to get down in it, one would go so far as to say that the prime mover behind the Beat movement – its basic inspiration – was a gay-bashing murder in Riverside Park. People may say whatever they like about writers trying to work out the demons, but I see something much darker than that.
Kerouac later based the main character of 'On the Road' on Neal Cassady, a man who appears on film to be a psychopath. I'd be looking for dead bodies buried under any house that guy ever lived in.
I think the Beat movement should be done over for the twenty-first century. This time, try not to blast anyone's brains out across a wall.