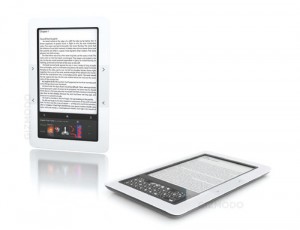 Amazon's Kindle could be headed for the woodpile.  The new Barnes & Nobel ereader device is coming at the end of November.
The new device is called the nook. Like book nook, I guess.  But this thing has a color touch screen virtual keypad like an iPhone and it displays book pages on an eye-friendly E ink display.  It appears to be sleek and well-designed.  It will also allow ebook owners to lend their ebooks to other people who own Nook devices for up to 14 days.  That's a big deal.
Another thing it has going for it is support for formats like ePub, eReader, PDF, MP3, JPG, PNG and BMP files.  One article compared this device to Amazon's by saying it was like the internet compared to Amazon's AOL.  It has free 3G and Wi-Fi connectivity.
After the ongoing grotesque behavior by Amazon and its apparent lack of concern for owners' rights it won't take much for Barnes & Noble to turn Amazon's ugly duckling of a closed-system ereader into a bad joke.
I never took the plunge to buy a Kindle from Amazon because I don't trust their intentions.  I have no hesitation to run out and buy the Barnes & Noble device as soon as it comes out in November.