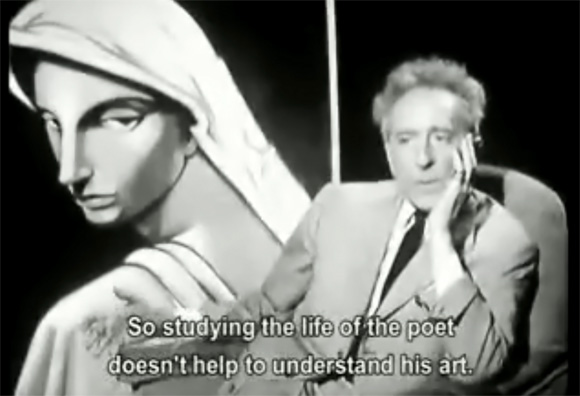 This is a 1996 documentary by Noël Simsolo, featuring many interviews with
Jean Cocteau
himself, Jean-Luc Godard and actor Jean Marais. The great French director of films like 'Blood of a Poet,' 'Orpheus,' and 'Beauty and the Beast,' was also an essayist, poet, artist, and playwright. When I was a kid I read the book he wrote about filming '
Beauty and the Beast
.' I understood little of it except that there was the general impression of someone working against constant hardship to attain a mysterious something. The book detailed his struggles with the subtleties of light, weather and performance in the pursuit of a mysterious quality that must be present in the fairytale. I knew that his efforts had worked because I had seen the film on television and understood that it was simply the most convincing fairytale I had ever seen. Another film with this totally mysterious quality is '
Orpheus
,' which is Cocteau's modern version of the Greek myth in which the great musician/poet descends into the underworld to bring his wife back to the world of the living. Cocteau's telling of the tale is at once ancient and modern, always mysterious and always trying to get close to poetry. Whenever I see that film I feel that I am seeing an important picture of French artistic life in the late 1940s told through the prism of ancient Greek myth. The film sits in that fascinating period of artistic ferment and dawning of a new cinematic movement that was a reaction to the end of World War II. Possibilities in films of that period seem limitless. There is a calmness of the image, an almost casual approach to creating scenes. Things are becoming more fluid and less studio-bound. Films are beginning to lean toward poetry and art.
Even though I never really understood what was being said in the 'Orpheus' film, it is probably one of the most important influences on the little bits of work that I do in film and video. Various images and scenes from 'Orpheus' regularly pop into my head as I work.
One of the best things I think an artist can learn from looking at Jean Cocteau is to follow one's own interests without worrying about being unqualified – pretending can eventually get you where you want to go if you do it absolutely.