The Romantic Image of Piracy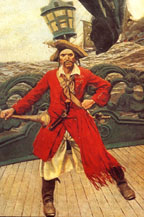 Today, the image of piracy is colored by our books, films and amusement parks. The creation of this romantic image of piracy began back in 1684 when Alexander Exquemelin published a book called The Buccaneers of America. The English edition of the books turned into a best-seller. The author had actually met buccaneers like Henry Morgan and had taken part in buccaneer raids.
The Golden Age of Piracy lasted 40 years, between 1690 and 1730. Most of the famous pirates that have helped create the popular imaged of piracy flourished in the decade between 1714 and 1724.
In 1724, Captain Charles Johnson published A General History of the Robberies and Murders of the Most Notorious Pirates. It was also a huge success. Chronicling the adventures of the most famous pirates of the Golden Age, it is still one of the most popular books of all time. Most histories of famous pirates are based on the information provided in this book. It is now commonly known that the author's name was not really Charles Johnson, but rather, Daniel Defoe, the author of Robinson Crusoe, the first English novel.  Apparently, Defoe, after having legal troubles in England, wrote several works under a pseudonym.
Piracy was being romanticized even while it was being practiced in its heyday.
Perhaps the most famous and most written about pirate of all is Blackbeard, who operated off the American coast between 1716 and 1718. He was extremely violent and killed many merchant crewmen and even killed some of his own pirate crewmen.
In the early 1800's, romantic fiction writers took to the subject of piracy and produced such works as Lord Byron's poem, The Corsair, Sir Walter Scott's novel, The Pirate, and Giuseppe Verdi's opera, Il Corsaro.