translated and illustrated by Vaibhav Kodikal (Mumbai, India)
This illustrated story is one of the most wonderful things we ever received at Candlelight Stories. It was sent to us back in 1997 by a young man named Vaibhav Kodikal from Mumbai, India. This was one of his first illustration projects, finished while he was still in school. The Times of India did an article about how he made this story and published it on Candlelight Stories. He was and remains one of our very favorite artists. We hope he is doing very well indeed today.
The Panchatantra – The Brahmin's Tale is from the oldest extant collection of fables in Sanskrit literature. Dating from the 4th century AD, it is based on still earlier collections of folk tales. The Panchatantra is sometimes attributed to an Indian sage, Bidpai (flourished about 300 A.D.). The tales, primarily about animals, are organized into five books on such topics as winning friends, losing property and waging war. They were originally intended to instruct a young prince in the conduct that would ensure his worldly success.
The Tale Begins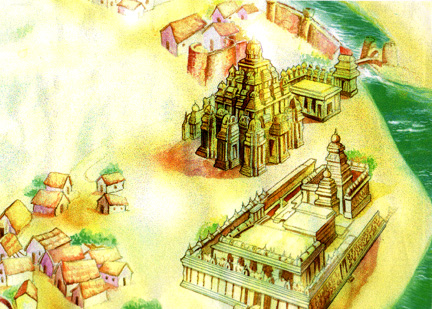 Long, long ago there was a poor Brahmin named Krishnan. He could not find enough work to do. Sometimes, he and his family had to go without food.