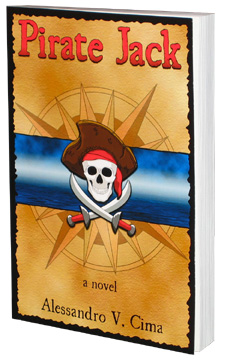 Pirate Jack
by Alessandro V. Cima
180 pages
6"x9" high-quality trade paperback
Paperback Price: $11.95
Download Price: $4
Also Available At These Major Outlets:

Audiences have been thrilling to the adventures of Jack Spencer in our Pirate Jack audio podcast. Now you can buy the book!
Book Description
Young Jack Spencer sees his father's boat-building business destroyed by a powerful land developer. Then Jack unearths three ancient scrolls that propel him on a dangerous adventure through time in search of a pirate treasure.
When Jack finds himself aboard the pirate ship Revenge with Captain Jameson's crew, he enters a life or death world of ship battles, jungle islands, prison escapes, gold, and treachery.
Set during the golden age of Caribbean piracy, Pirate Jack combines rollicking adventure with the moving story of a boy's love for his father and a courageous effort to save a way of life.
About Candlelight Stories Book Publishing
We work with a company called Lulu (lulu.com) for all our book printing. They offer the highest quality in cover printing, binding and paper. Their ordering process is simple and very secure. We think you'll enjoy buying our books through their service.


Candlelight Stories Book Publishing