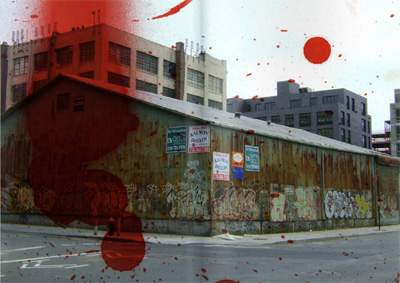 Artist and filmmaker Raymond Salvatore Harmon has written an inspiring and thought-provoking book that insists on changing the way art is perceived and approached by artists, viewers and the ever-problematic gallery world. Harmon presents several stories of his own brushes with law enforcement that are both funny and rather harrowing. He consistently recommends behaving as if you have every business being exactly where you are even if you have no permission to paint the front of a building. Confidence and apparent command of a situation will often get a clever artist out of a jam. Harmon is a very likeable guy and I can't imagine there would be too many police all that interested in arresting this particular artist whose work always seems to have good intentions behind it.
Here's an important quote from the book:
Ultimately, corporations play the biggest part in designing our modern world. Corporations sell goods, make cars, pump oil and make medicines. They design city planning and develop urban neighborhoods in order to make profit. They create ghettos to house those people that they pay so little they are unable to afford to live anywhere else. Making them exist at the most nominal part of financial need, particularly outside of the white picket fences of the 1st world nations.

Yet, in the darkness of the city night there are those that go out and change the urban landscape without planning permission of a performance license. These people vary in intent and talent but they collectively do what they do against society and against the law.
I like this book. I find it generally inspiring and agitating in the best possible way. However, I do have arguments with it. In general, I tend to prefer looking at street art that does not actually destroy or harm property. Artists who violate laws by gluing things on walls should I think be treated rather lightly. However, I can certainly imagine scenarios in which a business – even a corporate one – could be seriously harmed by the placement of street art on its walls. Not all corporations are British Petroleum. I don't see any logical link between artistic statement and one's attitude about a public or corporate wall. If art should in fact be more focused on the act of creation and viewing by the public without concern for how quickly the art is removed, as Harmon's book suggests, then street artists should be content with painting their work on paper or cloth and hanging it from those corporate walls. Why is there a link between the making of an image and the destruction of a blank corporate wall? Why not make the art and preserve the blank wall?
Harmon has some harsh words for the art world that links itself inextricably with the art schools, identifying artists it likes, feeding them into a network of wealthy friends and collectors, creating an insular world of wealthy back slappers and promoters. You can see this world in operation all over New York and even in Los Angeles. However, I would point out that crony networks are notoriously good at finding and publicizing actual brilliance.
Elsewhere in the book, famed artist/street prankster Banksy is quoted as saying:
Remember, crime against property is not real crime.
Banksy is of course not someone I would want to be taking very seriously since it is more than likely that he is little more than an employee or creative group working at Urban Outfitters. Thankfully, one of Harmon's stories about copyright leads right into an episode that reveals Mr. Urban… sorry… Banksy, to be just as copyright-obsessed as any corporation. Banksy is apparently working hard on a piece in model Kate Moss's bathroom… you kind of get the picture?
You'd do much better reading this marvelous and good-natured jab-in-the-ribs art manifesto than paying attention to Banksy, that's for sure.
Elsewhere in the book is a thoroughly amusing account of an assault on a major art world event that involves video cameras, dark suits and some very CIA-type stuff going on. Read it and enjoy.
Here is the entire book: