DOWNLOAD ROBINSON CRUSOE – PART 15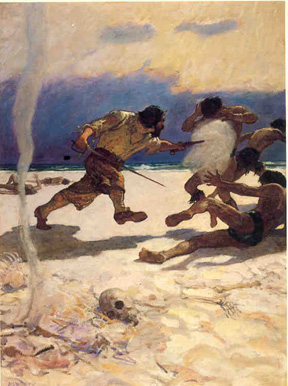 Robinson Crusoe and Friday get many surprises as they battle cannibals. The action explodes as they are forced to think and act quickly to save lives. Crusoe continues to be amazed at the strength of Friday's character and his incredible loyalty.

Subscribe to audio podcast

Subscribe to audio with iTunes
Read by Alessandro Cima
Illustration is by NC Wyeth (1920)
Crusoe battles the cannibals on the beach
All audio stories are Copyright © Candlelight Stories, Inc., All Rights Reserved. Do not distribute copies of our MP3 audio or video stories. They are for your personal use. If you choose to burn our MP3 stories onto a personal CD, do not make copies of the CD or distribute them to other people. Also, do not sell CDs containing our audio stories. All audio stories are copyrighted by Candlelight Stories, Inc.