DOWNLOAD ROBINSON CRUSOE – PART 14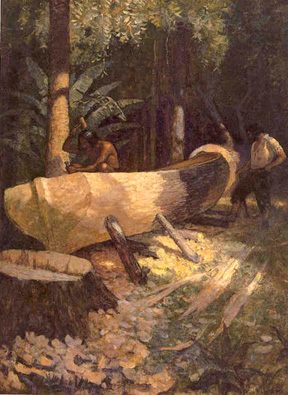 Crusoe builds his friendship with Friday, teaching him English, Christianity, hunting with a gun, and working with tools. The two men develop a deep and trusting bond once Crusoe gets over his struggles with suspicion and doubts about Friday's intentions. We find ourselves at that part of the novel that best illustrates what many critics of Defoe's novel say is a glorification of English colonialism and empire. To be sure, that is part of what is going on in the book. However, there is more to it than that. Defoe, at times, seems close to sowing seeds of doubt about the English world he lived in and its beliefs about its place in the world. Pay very close attention to the conversations between Friday and Crusoe. They move in directions entirely unanticipated by Crusoe. He is constantly surprised by how loyal, intelligent, and civilized Friday turns out to be in his very deepest nature.

Subscribe to audio podcast

Subscribe to audio with iTunes
Read by Alessandro Cima
Illustration is by NC Wyeth (1920)
Crusoe and Friday build a boat
All audio stories are Copyright © Candlelight Stories, Inc., All Rights Reserved. Do not distribute copies of our MP3 audio or video stories. They are for your personal use. If you choose to burn our MP3 stories onto a personal CD, do not make copies of the CD or distribute them to other people. Also, do not sell CDs containing our audio stories. All audio stories are copyrighted by Candlelight Stories, Inc.