DOWNLOAD ROBINSON CRUSOE – PART 12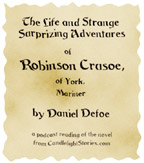 Crusoe worries about being attacked if his presence is discovered by cannibals who visit the island. He finds a spectacular cave and then, during a night storm, hears a cannon shot.
Get all the previous parts here

Subscribe to audio podcast

Subscribe to audio with iTunes
Read by Alessandro Cima
All audio stories are Copyright © Candlelight Stories, Inc., All Rights Reserved. Do not distribute copies of our MP3 audio or video stories. They are for your personal use. If you choose to burn our MP3 stories onto a personal CD, do not make copies of the CD or distribute them to other people. Also, do not sell CDs containing our audio stories. All audio stories are copyrighted by Candlelight Stories, Inc.