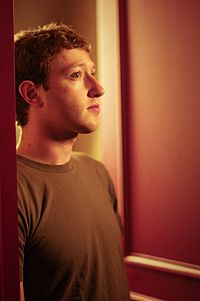 See the insipid goober just to the left.  That's Mark Zuckerberg.  He runs Facebook, the site that gathers tons of your personal and public information to form what he hopes will be an all-pervasive social network.  Being young is no excuse for this guy.  A young a-hole grows into an old a-hole very quickly.  This is what the Web's leading a-hole said recently:
And then in the last 5 or 6 years, blogging has taken off in a huge way and all these different services that have people sharing all this information. People have really gotten comfortable not only sharing more information and different kinds, but more openly and with more people. That social norm is just something that has evolved over time.

We view it as our role in the system to constantly be innovating and be updating what our system is to reflect what the current social norms are.

A lot of companies would be trapped by the conventions and their legacies of what they've built, doing a privacy change – doing a privacy change for 350 million users is not the kind of thing that a lot of companies would do. But we viewed that as a really important thing, to always keep a beginner's mind and what would we do if we were starting the company now and we decided that these would be the social norms now and we just went for it.
Do you learn to talk like a corporate dick by accident or is it something they teach in business school?
In other words: Facebook thinks making your information public is the new default norm.  Private information is a thing of the past.  They've basically just taken away users' ability to keep their information private.  Public is Facebook's new 'norm.'
So let's show this pre-pubescent nincompoop that we like our privacy.  Delete your Facebook account.  I did.  Start a blog.  It's much more fun than struggling through a crappy interface just to tell people about your latest haircut.
Some students at New York University have funding and are working on a new open-source social network with freely distributed code.  You know, like the Firefox browser.  Their service is called Diaspora.  That's the best idea I've heard about in years.  Open source social networking… with privacy.
Here's the WikiHow article on how to permanently delete your Facebook account.
Here's an update: The students working on Diaspora have raised over $115,000 via online donations.  This is a great start for their development project and means they don't have to answer to a corporate investor.
Another open-source effort at social networking is OneSocialWeb which actually has working open-source code.  Their software works sort of like the open-source blogging software, WordPress.  You can install your own version of it on a web server if you want.
Here's an excellent Wired article on the up and coming alternatives to Facebook.