DOWNLOAD ROBINSON CRUSOE – PART 9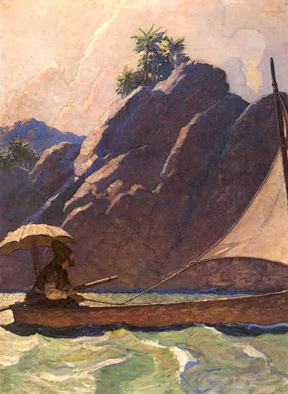 Let's get on with our story, shall we? It's a good story and reading it is a lot of fun. Difficult, but fun. Defoe's language is up and down and backward and forward. It makes you think fast. Try picking up the book and reading any part of it out loud and fast. It's tricky. But it's a very good way to learn more about how Defoe's mind worked. Amazing. Are you starting to wonder why Crusoe constantly reminds us of things and says things like: 'As I told you before,' or 'As I said earlier?'
He almost insists that you follow the correct sequence of events, but he skips ahead in order to achieve a much more important goal. He wants you to follow along with his state of mind. That's why his story-telling language is so twisty and folds back on itself so often. This is certainly one of the most fantastic things about Defoe's novel. Its obsessive focus on the man's state of mind sets a precedent that influences almost all of literature following Defoe. It is really this that makes the book so modern.

Subscribe to audio podcast

Subscribe to audio with iTunes
Read by Alessandro Cima
Illustration is by NC Wyeth (1920)
Crusoe battles the currents on the far side of his island
All audio stories are Copyright © Candlelight Stories, Inc., All Rights Reserved. Do not distribute copies of our MP3 audio or video stories. They are for your personal use. If you choose to burn our MP3 stories onto a personal CD, do not make copies of the CD or distribute them to other people. Also, do not sell CDs containing our audio stories. All audio stories are copyrighted by Candlelight Stories, Inc.