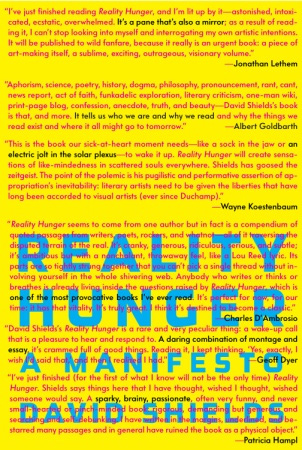 I finished it a couple of weeks ago.  Reality Hunger: A Manifesto by David Shields is a fascinating read most of the time.  Some quotations are simply better than others.  I have my favorites.  Hemingway gets quoted for his: "The most essential gift for a good writer is a built-in, shock-proof shit detector."
What might Ernest have meant by that? Did he mean that a writer should be writing what he/she knows?  Writing from reality?  David Shields seems to think so.  He puts this quote in the chapter called 'Reality.'  But I don't know.  I think the inclusion of this quote is a weak pin in the framework of Reality Hunger.  I don't think Hemingway had any concern whatsoever with reality.  I don't think Hemingway's 'shit' equals 'fiction' or 'made-up.'  I think Hemingway's 'shit' equals shit.  My shit-detector is going off and it's pointing in Mr. Shields' direction.
His book pinpoints the weakness of fictional form in today's reality-obsessed culture.  The more real we get in our art, the more real our art will be.  We see it all around us, this fixation on reality shows and data and news and of-the-moment information.  We want people to write memoirs more than we want them to write fantasies with fictional characters running around dragging us through the usual plot structures of the worn-out novel form.
I'd believe David Shields if he'd tell more lies.  His book is a big collection of quotations from writers, artists, philosophers, academics, photographers, and filmmakers through history.  The quotations lead us ever closer to the general idea that the observation and reporting of reality in and of itself creates all the fiction we really need.  The pulling together of various shards and bits of reality and observation build art and culture.  To hold a memoir writer hostage to absolute truth is futile and ridiculous because the writer's job is simply to write.
But I think I'd prefer the book if, having read it to the end and found the appendix with all the sources of the book's quotations listed, I then could go on to discover that every single one of the quotations was in fact… fake.
The book should have been an absolutely made-up total fake because that would be really real.