Artist Camille Rose Garcia has illustrated a new version of Alice's Adventures in Wonderland.
I'd read her book instead of seeing the Tim Burton film. He's really just the most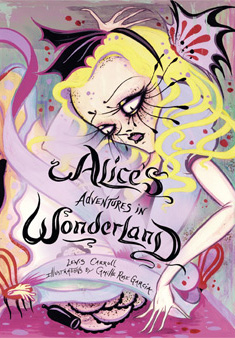 obnoxiously untalented movie-maker.  He is mistakenly called a 'dark' director.  He is not.  Actually, he is as moronically cheerful and sunshiny as Walt Disney. And Johnny Depp's entire talent and technique as a performer resides within his wrists. It's bravura wrist-acting.  So skip the lumbering slog of a film and read the excellent book with the beautiful illustrations by Garcia.
Her pictures make me want to read the book again.  Here's a L.A. Times Jacket Copy article about the artist.