DOWNLOAD ROBINSON CRUSOE – PART 3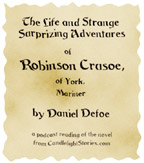 In this section of the novel, Crusoe continues making good on his escape. He then makes a series of fateful decisions as he tries to get on his feet and make a life for himself.
Defoe begins to get into the slavery issue and how it plays the major role in Crusoe's single most important decision.

Subscribe to audio podcast

Subscribe to audio with iTunes
Read by Alessandro Cima

All audio stories are Copyright © Candlelight Stories, Inc., All Rights Reserved. Do not distribute copies of our MP3 audio or video stories. They are for your personal use. If you choose to burn our MP3 stories onto a personal CD, do not make copies of the CD or distribute them to other people. Also, do not sell CDs containing our audio stories. All audio stories are copyrighted by Candlelight Stories, Inc.