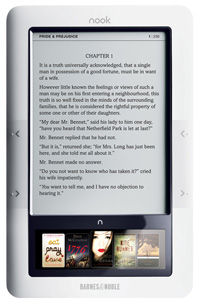 I've been so waiting with my bated breath and all for this magical Nook machine from Barnes & Noble.  I was in a right dither tonight about an hour and a half ago as I shoved my reading glasses into my pocket, put my regular glasses on my face and piled into my car for the short ride to my nearest Barnes & Noble bookseller.  But I stopped first at the Lenscrafters to run in and have them adjust my frames because my glasses are so new and have been drifting over lopsided all week.  So the woman there fixed them up nicely and shined them good.  Then I drove on toward my Nook encounter.
The store had a lone unit attached to an anti-theft device that scared the hell out of me because I tend to demonstrate new devices to myself until nearby customers think I'm a lunatic and I certainly didn't want to raise any alarms.  The Nook said, 'Press the Power Button to Wake Up.'  I spun the device around several times until I located said button embedded in the upper edge of the Nook.  I pressed it.
I waited.
Then I pressed it perhaps fourteen or fifteen times to try and make something wake up.  Then the screen went through a series of blinks, flashes and some rather frightening symbols appeared and then disappeared.  And then the machine said, 'Press the Power Button to Wake Up.'
So I pressed it another fourteen times and the machine was just about ready to phone the local police precinct.  But finally it went into some new state and I saw options down in the bottom LCD screen where you do all the button pushing.
I pressed the button to show my library and found three loaded books.  One of them was Dracula by Bram Stoker.  Quite a good book and extremely scary in a much more subtle way than you might expect, having seen all the incompetent adaptations of it in the movies.  So I pressed a down arrow button which was supposed to move me to Dracula.  But it took about 3 full seconds for anything to happen on screen.  So of course I kept pressing the button and got all screwed up and it took me half a minute just to move through a list of 3 books to the one I wanted.
When I finally got into Dracula the pages loaded with such an agonizing fistfight between black and white, with scratching, punching, and a general inability to decide which shade should gain the upper hand that I felt a little sorry for the poor book in the Nook.  I didn't really have the heart to turn another single page because it seemed like so much work for the little Nook.  So I decided to look up a word with the built-in dictionary.  This is one of those big braggable features of e-readers – the power to easily look up any word in a book on the spot!  Well just you go and try it for yourself.  Pick a little word right in the middle of the page.  You have to use right, left, up and down arrows to move line by line, word by word to your little undefinable friend.  Each press of an arrow key takes almost 3 full seconds to make the cursor move!  Yep.  Let me tell you right now and here that I would rather read a book in Chinese than use this barbaric torture device inflicted upon unsuspecting readers by the likes of Barnes & Noble.  You will spend your life waiting for things to happen on a Nook and you will get so tired of it that you will put this thing in a drawer and never read another e-book as long as you live.  You will sooner read War and Peace underwater than use this fancy plastic drink tray to read another word.
And here is where Steve Jobs comes in.  I think Jobs is a sneaky, creepy fascist who cares for nothing but turning us all into walking sales people selling to ourselves all day long with our own little personal cash registers.  But this guy knows how to make a machine actually function.  When you press a button on a Steve Jobs machine it hurries right on up and actually gets something done.  It doesn't wait 3 full seconds to move a cursor.  His iPad will turn this Nook thing into a rectangular Frisbee.  Barnes & Noble will not be able to fix its problems with software updates.  It's beyond software.  It's a circuitry and hardware problem that requires a rebuild of the entire platform.  Someone pushed this piece of junk through development without giving a damn about anyone.  This is a get-your-money-back-quick machine.  Imagine right now if you pressed the 'A' key on your keyboard and could count to 3 before an 'A' showed up on your monitor.  Well, ladies and gentlemen that is the Barnes & Noble Nook e-reader device!  It actually made me feel as if I were holding a very old machine from the early twentieth century.  It has something to do with all the effort of turning a page and all the scratchy letters blinking and stuttering.  It's like what would have passed for a computer 100 years ago.  Very strange.  And very expensive too.  $259 for a machine that doesn't want to wake up or turn the pages of my book is just too much to ask.  Sorry Barnes & Noble, but you really must think about this a little harder.  Really.