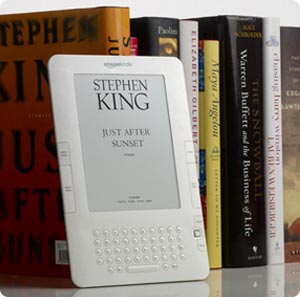 There's been a huge battle of the ebooks going on between Amazon.com and publisher Macmillan.  Last week, Macmillan, in response to rotten Apple's announcement of $14 and $15 ebooks on its new iPad, insisted that Amazon give Macmillan the right to choose its own higher ebook pricing for the Kindle ereader device.  Amazon got peevish about the deal and simply de-listed all of Macmillan's books.  I thought that was a nice nasty smack in the kisser for a doomed publisher at the time.  I was feeling so good about Amazon and its Kindle and so snitty about Apple's iPad that I was within 60 minutes of plunking my digital money down on a brand new shiny Kindle.  But wait!  Amazon caved!  They rolled over and gave Macmillan what it wanted.
So now, dear reader, your Kindle ebooks from Macmillan will cost more.  Frankly, I was always kind of miffed by the whole $9.99 price tag on Kindle ebooks.  Too high.  Ebooks are invisible.  You can't stack them and put boards across to make a coffee table.  Ebooks don't have nice covers or fancy paper that you can bend and spill coffee on.  I don't know about anyone else reading this blog out there, but when I walk into a book store I'm just a customer.  I don't frankly give a damn about how the publisher is doing or how Amazon is getting along, or care a whit for Steve Jobs' health, or the status of your average mid-list author and how he or she's going to pay their mortgage.  I don't give one syllable of a damn.
I just want a good price.  I've been involved with technology and code and content since the WWW went live and I can tell you without hesitation that no ebook is going to remain in your digital library for 10 years.  You are going to lose it and forget it and wonder if you ever even had it.  Most of the books I owned when I was nine are exactly eight and a half feet away from me right now.  There's Pinocchio on its shelf off to my right.  It's a huge hardback with giant illustrations and is as beautiful as the day I first saw it.  Ask yourself where that diary is that you were writing in Microsoft Word back in 1996?  It's in the same place your ebooks are going.  Nowhere.  An ebook is worth about $2.  But publishers don't want you to know that because they are afraid that these ebooks will replace all the hardcovers and paperbacks they sell for anywhere from $8 to $50.  How will these publishers explain to their authors that ebooks are only worth $2?  Where will all those big advances and royalties go?
Poof.  Ebook prices should be heading down not up.  An ebook costs a publisher nothing to produce beyond the editing, layout and marketing costs.  It doesn't have anything to print, warehouse or ship.  As online systems and ebook formatting software get more powerful, the cost of producing these things gets even lower.
So Macmillan will not sell me any ebooks for $14 and Amazon will be very lucky to sell me a Kindle sometime this year if at all.  I think the problem here is the publishers.  I think publishers are too frightened of cheap ebooks.  What they should be doing is giving ebooks away if you buy the print version.
Here's another thing the publishers don't want you to know:  you can avoid giving any of these people your money by just reading free ebook versions of all the world's greatest literature.  Just go to Project Gutenberg and you can download more books for your computer or ereader than you will have time to read in your life.  That's how you drive prices down.