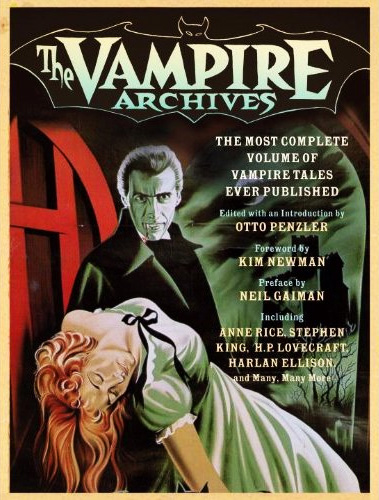 On Friday evening I went into Hollywood looking for monsters.  I found some really bad ones.  They're inside The Vampire Archives, an enormous volume of vampire stories edited by Otto Penzler and published by Vintage Crime.
The book is organized into sections like Pre-Dracula, which holds gems like Good Lady Ducayne by English writer M.E. Braddon, Carmilla by Sheridan Le Fanu, and Ligeia, by Edgar Allen Poe.
Another section is That's Poetic, with works by John Keats, Lord Byron and Johann Wolfgang Von Goethe.
The final section is Modern Masters, with stories by Ray Bradbury, Peter Tremayne and Brian Lumley.
The book finishes with what is advertised as the most comprehensive bibliography of vampire fiction ever assembled.  And it certainly goes on for many pages.
The book is a big fat heavy pulpy treasure and I dug right into it as soon as I got home.  This thing will put you in right good shape for the approaching Halloween day of terror and magic.
And let me stick my thumb into the eyes of literary bloggers everywhere who can't write about a book and link to its purchase page without sadly trying to make 14 cents off the deal, I am going to pull an unexpected sleight of hand trick and link to this fantastic book without making a single pathetic penny.
Next time I see some jackass literary blogger link to a book as an 'Amazon Associate' I'm a gonna send that hungry fool 14 cents so they can go buy a Big Mac.