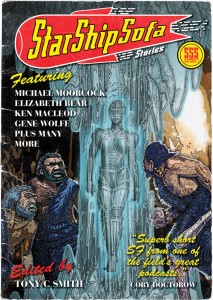 The wonderful science fiction podcasting site, Starship Sofa, in celebration of its 100th episode, has published its first collection of stories as a book. Not just an ordinary book. It's a book filled with fantastic illustrations and gorgeous layout that hearkens back to the pulp publications of the 1930s through 1950s. It even has vintage advertisements!
The best part is that you can either buy the book or read it as a free ebook in an excellent ebook viewer.
Some of the authors featured are Michael Moorcock, Alastair Reynolds, Ken Scholes, Ruth Nestvold, Elizabeth Bear, and more.