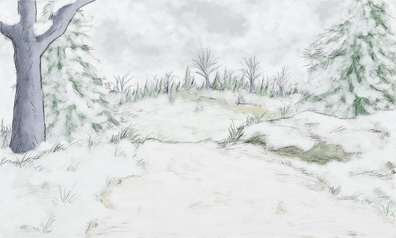 After quite a long break for coffee and ice-cream that's lasted since November 2007, I am picking up the film right where I left off and this is my image for the evening. It's a background for a shot of Oksana's father leading her from home and into the forest. I'll start working on the two characters tomorrow. They will come up over the little knoll and walk toward us.  It's amazing how difficult it is to start work on something like this again, but how pleasant the work is once begun.
Here is the latest version of the animation done so far:
The Make the Movie blog has all the posts from the beginning of this little production. You can see the pencil drawings, storyboard film, background paintings, and animation tests. You can also find the original story there.