This Tuesday, if you live in a swing state or even if you live in a Republican-leaning state, take a deep breath, think about whether you have recently considered voting for a guy who openly incites misogyny and racism… and just go vote for Hillary Clinton.
She's the wise choice. She's the choice of people who don't want a president of rage, hatred, and oppression.
These states could tip the election: Florida, Pennsylvania, Michigan, North Carolina, Virginia, Colorado, Ohio, Wisconsin, Minnesota, Nevada, New Hampshire, Arizona, and New Mexico.
Worried about that silly email story? Okay, well today the FBI announced there's nothing wrong.
Here's an easy way to find out where your polling place is: https://www.voteplz.org/vote/polls/
You can find out what your state's requirements for ID are here: https://www.rockthevote.com
If you need to get an ID, call VoteRiders at 844–338–8743. They can help walk you through the process for getting one.
Please do not waste your vote on a third party candidate. That won't work. It never has and it won't now. A third party vote is a way of letting Trump get through the door. We need to close the door on him. We need to slam it shut on his authoritarian ideas by delivering a landslide for Clinton.
This web site is about inclusiveness, freedom and intelligence. None of those things are understood by a man like Donald Trump.
Please take part in this and go vote for Hillary Clinton. Years from now you will know that you put yourself on the right side. History will be kind to you!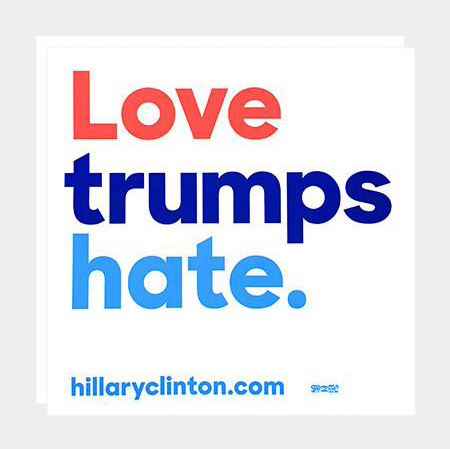 You can donate at HillaryClinton.com.